General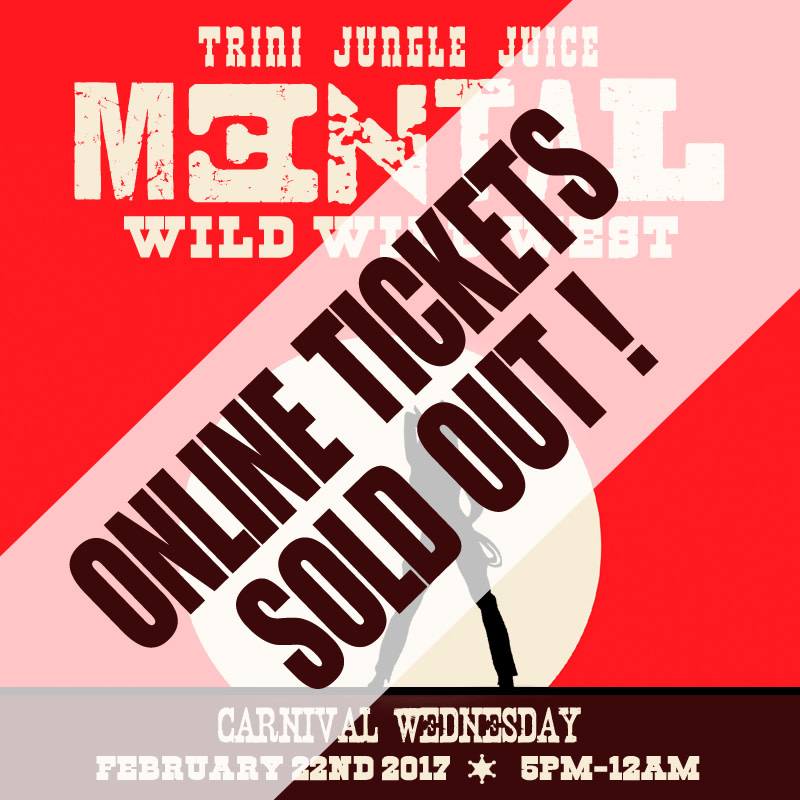 Trini Jungle Juice presents the 4th installment of our annual Carnival Wednesday party.
MENTAL – Lose Yuh Mind.
'The Wild Wild West Edition'
Carnival Wednesday
February 22nd 2017
5PM – 12AM
Premium Drinks Inclusive | Advanced Tickets Only
====
For Tickets, contact any MENTAL committee member:
TRINIDAD:
Andre Choo Quan
Anita Ramroop
Arveyann Thomas
Arvinder Rampersad (Winerboy Entertainment)
Audrey Christophe
Brendon Clement
Candice Ho Wong
Cass Stuart
Christoph Samlal
Christopher J. Alexander
Damian Duke
Damian 'Fram' Baboolal (Illusions)
Danielle Alfonso
Danielle Parkinson Lai Leung
Edmund Joachim
Gisel Laughlin (Pose)
Jehan Singh
Jeremy Tai Chew (Hakwai Clan)
Jules Sobion (Caesar's Army)
Keyon Mitchell
Kris-Michael Drakes
Krista Clarke
Krystle Khan
Marina Louis
Marisa Mahadeo
Mark Romany
Marsha Thompson
Mary Esdelle
Meagan Monsegue
Nerissa Batchasingh
Nina Bernhardt
Oliver Martin
Paul Choo Quan (Salsa Wednesdays)
Rachel Agarrat
Rana Ibrahim
Raj Maharaj (#FVCKRAJ)
Rebecca Elias
Rhian Ramkissoon
Rhonda Ottley
Robert 'Mez' de Gannes
Serala Ramlogan
Shane Baird (AIR Commitee)
Sinead Camps
Suzette Boissiere
Thais Mc Gowan
Trisha Duke
Tuere Kareem
Yohann Govia
BARBADOS:
Camille Walker
Craig Gun-Munro
Gael Hopkin
Jonathan Fox
Lyn Sealy
Kristi Johnson
Nick Gill
Robert MacGeoch
Saadiya Nakhuda
Sasha Marie Corbin
Shakéela Boodhoo
Tara Thompson
Vanessa Gilkes
BERMUDA:
Jason D'General Sukdeo
JAMAICA:
Alicia Camps-Ganess
Andrew Bellamy
Bianca Hernould
Brittne Murray
Kathryn Silvera
Lauren Alanna Renee
Patrice Taylor
Renee Harper
Richie Spence
Sarah Elizabeth Jackson
ST. LUCIA:
Krystal Jean-Baptiste
ST. VINCENT:
Edmund Joachim
MARTINIQUE:
Anthony Eroll Maugée
MIAMI:
Collin McFarlane
Denise Weekes
Kristel Kouly
Rebecca Gonsalves
Rheena Madd Dem
Stacey Balkaran
Meiling Bansee
Vanessa Downs
Yoly Bolaños
NEW YORK:
Andre Martindale (Dre DoGG)
Ayana Miller
Janelle Hing
Randall Bourne
WASHINGTON DC:
Al Vincent
Neil Berment
Shanna Sandy
PHILADELPHIA:
Stephen Choo Quan
ATLANTA:
Wade Allard
BOSTON:
designingDARYL
ORLANDO:
Riki Kouly
HOUSTON:
Sean Xavier
CALIFORNIA:
Danielle Cooper (Coop)
Jesan Sacha
TORONTO:
Brooke Myers
Charlene Allen
Dr. Jay de Soca Prince
Kerra Denel (Mizz Kayz)
Melanie LeeLook
Renée Whitney
Sandhya Khanna
Sheldon Sookdeo
LONDON (UK):
Alvern Porter
Amiel Barrimond
Konata Alleyne
Follow on
Instagram @trinijunglejuice | Twitter @junglejuiceintl
#TriniJungleJuice #tjjMENTAL #WildWildWestEdition #CarnivalWednesday #PremiumDrinksInclusive #MentalWednesday #feteSTRONG #WeAreCarnival #CarnivalLikeWeMAD
Website:- www.trinijunglejuice.com
======
What is the refund policy?
All ticket sales are final. No Refund or Exchange.
If event has been rescheduled, original tickets will be honored for the new date and/or time. There are no refunds for a rescheduled event.
Inclement weather conditions may affect an event or travel to and from it, however there will be no refunds for unused tickets or for the loss of enjoyment caused by these weather conditions or any other "acts of God".
2017-02-22
05:00PM - 12:00AM
Invite
Trini Jungle Juice